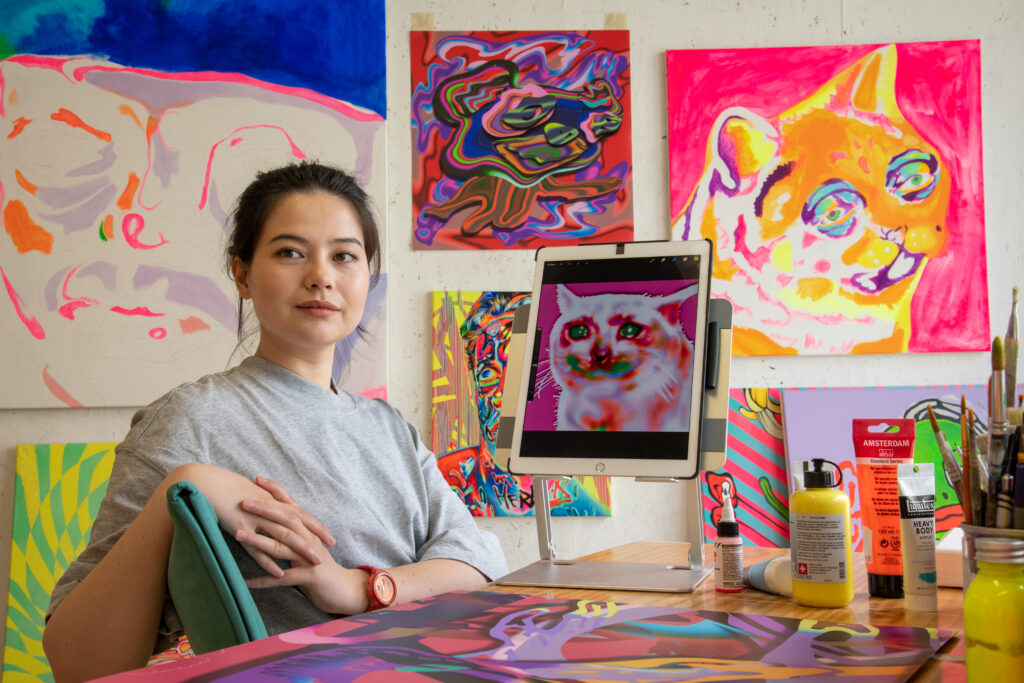 Based in Aachen, Germany.
contact@francesca-larkin.com
Francesca Larkin (b. 1991, pronouns she/they) is a Taiwanese-British artist based in Germany. Originally trained in painting, their work is a synthesis of analog and digital image making processes. Immersing themselves daily in internet imagery, they scavenge and lift visual oddities and insert them into reiteratively imagined tableaux and portrayals of post-digital beingness.
---
Education and Awards
Bachelor of Visual Arts (Honours) from the The Australian National University – School of Art, Canberra
Spanish Embassy Torres Scholarship for Young Australian Artists
---
Press/Publications
2022
Overstandard – Culture Magazine (Artist Profile, Link here)
2021
Interview with Lisa Klein, Klenkes Stadtmagazin Aachen (Link here)
VAST Art Magazine (Cover and Artist Interview, Link here)
---
Exhibitions
2022
[Oct. '22] Galerie Freitag 18:30, Aachen
Aachener Kunstroute, Halle 1, Aachen
2021
Galerie Freitag 18:30, Aachen
Aachener Kunstroute, Halle 1, Aachen
2020
Aachener Kunstroute, Halle 1, Aachen
2019
Atelier Sascha Berretz, Aachen
Galerie Freitag 18:30, Aachen
Aachener Kunstroute, Halle 1, Aachen
2017
Galerie Freitag 18:30, Aachen
2016
Südstraßenfestival Pop-Up Gallery, Aachen
2015
The Chop Shop, Canberra
Exhibition for the Spanish Embassy Torres Scholarship for Young Australian Artists, Canberra
2013
School of Art Graduate Exhibition, Australian National University, Canberra